September Balance of Trade
The recession continued to affect America's international trade in September. Once again, the U.S.  imported more goods and services than it exported, according to the most recent report from the Bureau of Economic Analysis. Compared to the revised August data, the September trade deficit was higher, as were the levels of of both imports and exports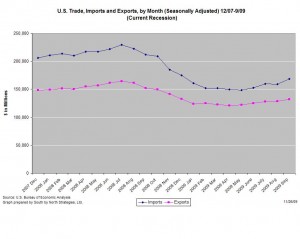 The graph (left) shows the changes in American imports and exports that have occurred since the start of the recession in December 2007.
The recession has reduced American demand for foreign goods and services and foreign demand for American goods and services (though the fall in the dollar's value likely is boosting American exports).
Compared to a year ago (seasonally adjusted), U.S. imports were 20.6 percent lower while exports were 13.2 percent lower.
The rapid decline in imports has helped to reduce the trade gap. In September, the  U.S. imported $36.5 billion more than it exported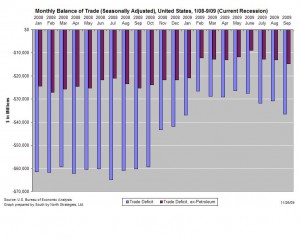 . When imports of petroleum products are excluded, the trade gaps stood at  a lower $14.8 billion.
Compared to one year ago (seasonally adjusted), the non-petroleum trade deficit is 45 percent lower and the overall trade deficit is 39.4 percent lower.