State Population Growth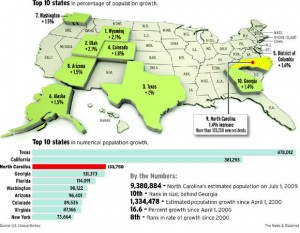 New estimates compiled by the U.S. Census Bureau show that net domestic migration slowed across much of the United States between July 1, 2008 and July 1, 2009. Over that period, Texas gained the most people in numerical terms (+478,000), followed by California (+381,000), North Carolina (+134,000), and Georgia (+131,000). In relative terms, Wyoming's population grew the fastest (+2.12 percent), followed by Utah's (+2.10 percent), and Texas'  (+1.97 percent) populations. (See map, right).
The 134,000 residents gained by North Carolina bring the state's total population to 9.4 million. According to a report in The News & Observer, North Carolina is now the nation's 10th most-populous state. Since 2000, North Carolina has gained over one million new residents and has seen its population grow at a rate faster than those recorded in all but seven other states. However, owing in large part to the recession, North Carolina did not grow as robustly last year as it has in recent ones.