Access to Higher Education in Western NC
In 2009, South by North Strategies released the results of a census of 1,200 working adults who had earned college degrees through the Appalachian State University Center at Hickory (formerly known as HMHEC).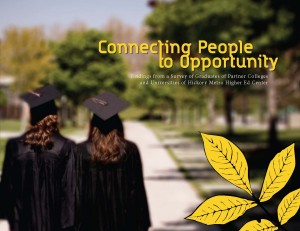 The center is an educational intermediary that connects working adults in Western North Carolina,  an area with relatively few institutions of higher learning, to degree and certificate programs offered through a consortium of universities. Programs are offered via distance learning and at the center's facility in Hickory, NC.
The study aimed to gauge the factors that led students to enroll in, persist with, and complete a degree program. The study also documented the impact that degree completion had on individuals'  labor market experiences. The findings were summarized in the 16-page booklet entitled Connecting People to Opportunity.
Click to view the executive summary or the full report. Click here to read a news story about the research.