Impact of Workforce Services in Eastern NC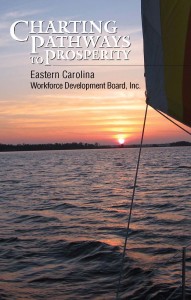 To increase public awareness of its work, the Eastern Carolina Workforce Development Board in New Bern retained South by North Strategies to author an annual report and case statement.
The centerpiece of the project was the preparation and publication a 16-page report entitled Charting Pathways to Prosperity. The report built a concise case for the board's work, answered commonly-asked questions and explained the various "winners" from the board's services.