An Analysis Of NC's Public Mental Health Workforce
In August 2013, the NC Center for Public Policy Research, a nonprofit organization in Raleigh, released the first comprehensive analysis of the approximately 10,000-person workforce employed in North Carolina's public facilities that provide mental health, developmental disability, and substance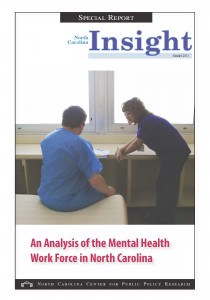 abuse services.
The report provides a snapshot of selected demographic, occupational, and employment characteristics of the workforce employed in North Carolina's three public psychiatric hospitals, three alcohol and drug treatment centers, three developmental centers for persons with intellectual and developmental disabilities, two residential treatment centers for children, three neuro-medical treatment centers, and the central administrative office.
An overview of the analysis and a summary of key findings are available here.
John Quinterno of South by North Strategies, Ltd. conducted the basic analysis, which involved a descriptive analysis of administrative data provided by the NC Division of Mental Health, Developmental Disabilities, and Substance Abuse Services. The data reflect the employment situation as of summer 2012.
The research is part of a longer, multi-year study of mental health reform in North Carolina that the NC Center for Public Policy Research has been conducting thanks to generous philanthropic support. Past reports in the series, including a 2012 piece prepared by South by North Strategies,  are available for purchase in the online archives of the center's research journal, North Carolina Insight.