Philanthropic Efforts to Better Postsecondary Education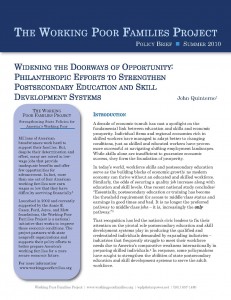 Strengthening state postsecondary education and skill development systems – systems that encompass such programs as technical education, literacy instruction, and occupational training – requires comprehensive changes to public policies and institutional practices. To that end, various philanthropic foundations recently have launched ambitious, multi-state, multi-year efforts to raise the educational attainment of Americans.
To boost understanding of the recent wave of philanthropic interest in state postsecondary education and skills development systems, The Working Poor Families Project, a national initiative to strengthen state policies and programs, asked South by North Strategies, Ltd. to identify several reform efforts designed to expand the opportunities available to low-income working families.
The resulting report, Widening The Doorways of Opportunity, profiles seven efforts: Achieving the Dream, the Postsecondary Success Initiative, Complete College America,  Breaking Through, the Developmental Education Initiative, the National Fund for Workforce Solutions, and Shifting Gears.