During the first half of 2010, North Carolina's job market essentially ran in place. Although jobs were not lost at the frantic pace of 2008-09, little progress was made. Conditions remained weak, and growth did not occur at the level needed to re-absorb displaced workers or accommodate new entrants to the labor force. And considerable evidence suggests that more difficulties are in store for the the second half of 2010.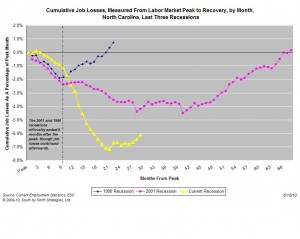 The figure (right) shows the job losses that occurred in North Carolina between December 2007 and May 2010, the most recent month with data. Over that period, North Carolina  lost, on net, 254,000 positions or 6.1 percent of its payroll job base. Between September 2008 and April 2009, the state lost an average of 23,450 jobs per month. Losses slowed during the summer of 2009 before bottoming in September. Since then, the state has gained an average of 5,000 jobs per month.
Unfortunately, North Carolina needs to add some 5,500 positions per month to keep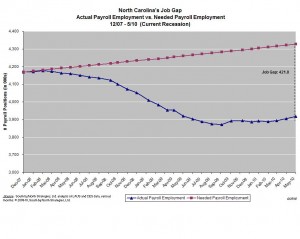 pace with workforce growth. If one considers the jobs that should have been created during the recession but were not, the actual gap facing the state is 422,000 positions (Figure, left).
While the job growth posted in 2010 is welcome, it is insufficient. The state has netted 31,300 jobs, but only 14,100 of those jobs are private-sector ones. As the figure (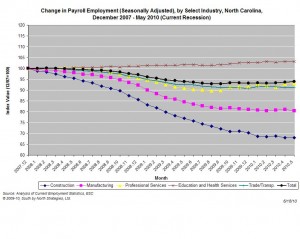 below) shows, selected private industries have posted little growth.
Meanwhile, many of the public-sector jobs that the state gained were temporary ones, primarily positions related to the 2010 Census. These jobs now are ending. In fact, the Census Bureau's Charlotte region (NC, KY, TN, and VA) eliminated 27,748 jobs between the weeks of May 12th and June 12th.